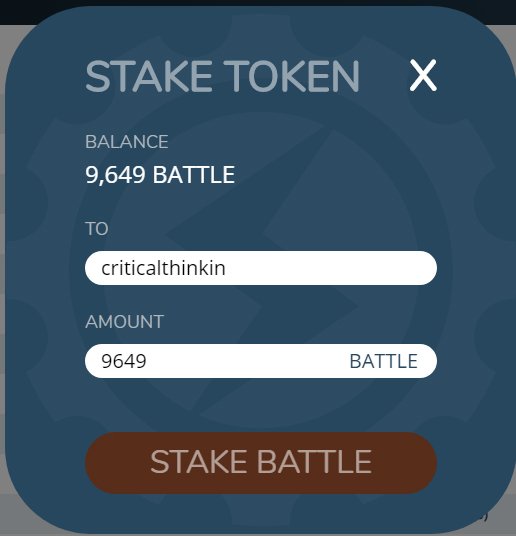 Hey there!
Yes, you have read right! I have been finally able to manage to buy a larger sum of tokens to support the tokens (and their respective communites).
It took me quite a while, with having to change the buy order over 200 times before the buy order was finally fulfilled. My total stake is now up to 15k.
This was a plan of mine for quite some while now, and I gonna tell you why:
Every vote is meaningful for a content creator who shares original and good content on a regular basis. Due to my gaming past and still passion for games, I like these new environments, and simply want to be a part of that.
We're living in interesting times and experiencing it first hand got me motivated to play a more impactful role in the development of these communities. This is not a plan to take over the world, but rather give content creators I like a higher reward for their efforts.
I guess if we all follow similiar plans, this gaming community on the Steem platform can thrieve and flourish into something very beautiful and long-lasting.
What can you expect from me?
Once I'll finally be finished with the renovation of my new apartment (which should take a week or two max) I will be daily curating content and try to create more dialogues within these posts that I like.
I'm quite new to steem but have noticed that the engagement between people on here (in regards to comments and replies) is really scarce.
But well, you might have noticed it yourself by now. In the word community, communication should be key. And that should never be only one-sided. I have made several efforts to get more engagement by asking open questions in my posts, and still barely I'd get an answer but nearly a 100 upvotes.
I want to change that fact and so if you'll see any upvote by me, there is a high chance you will also have received a message. I'd like to get to know you and am looking forward to your responses ;)
Would also love to do the same for the Steemace Tribe next, as I find they both go super well together-
See you!