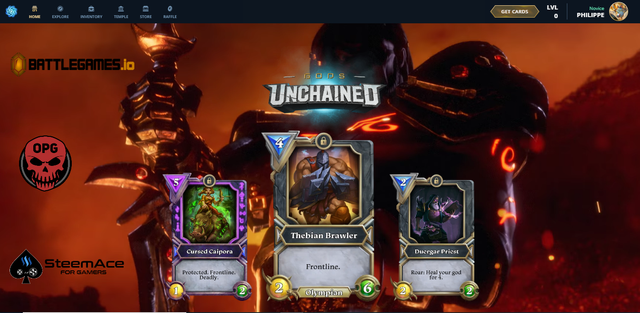 Another trading card game hits the Etherium Blockchain... and she's a goodie
Over 800 different cards, and 4 Million cards sold so far
More than 10 Thousand beta test games played
Assets are NFT running on ERC721 tokens
If you would like to sign up for Beta testing you must use a referral code... I would appreciate if you used mine
If you are new to online card games and would like to learn how to play, here is the player guide

Gods Unchained is a new competitive trading card game backed by Coinbase and led by the former Director of Magic the Gathering: Arena. The cards are real-world tradable in an open economy, remember their stats and history, and you'll be able to play for keeps and earn valuable cards. Gods Unchained is free to play and currently in beta. You need to be invited to get in, but if you're interested in trying it you're welcome to use my beta key! https://godsunchained.com?beta-key=EUYRZVysxy

This is a referral link, a referral link is needed to join this game... it will cost you nothing to join, and I will receive a small discount for purchasable items for each person who joins
Source


As of today, Hyperion (one of the four unique Gods Unchained Genesis Titans, and the only one directly available for purchase) has officially been bid on for a whopping 137.8 Ether (~$60,000 USD). That's more than the previous longstanding record of $27,000 for a trading card: MTG's 'Alpha Black Lotus' (and narrowly beaten by the recent record set three days ago for a Black Lotus of $87,000).
And get this… the auction is still live.
Source
Chris Clay is the new game Director for Gods Unchained, which is exciting because Chris has worked in game development and design for over 20 years and most recently on the new Magic The Gathering



I started writing this post with the intention of posting gameplay with it... But it's an addictive game, and I haven't gotten around to editing it yet... that was 7 hours ago...
I will upload some actual gameplay in my next post...