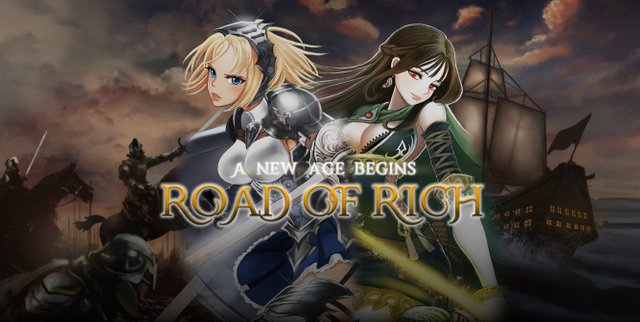 For awhile now I have been following the development of Road of rich. I remember when first hearing about it I began to get excited. Thinking to myself finally a war game coming to Steem.
I recently contacted some members of the Road of rich team and was honoured with an interview. Here is what the awesome team of Road of Rich had to say.



Mickvir:
Thank you for accepting to this interview,
can you give us a background on what type of game Road of rich is?
ROR:
Road of Rich(ROR) is an Economic Strategy Simulation RPG(SRPG) game.
In this game, you can collect and trade resources through various activities such as combat, gathering using mercenaries and trading through the auction.
To be the great merchant each player must hire mercenaries for Combat, Collection, Mining, and Trade, and the Growth of Mercenaries can help them gain a competitive edge.
All players can play games in the direction they want.
All players' activities are closely interconnected and can sometimes co-work or compete.
Mickvir:
What game modes are available , do you support player vs player, player vs ai or player vs everything?
ROR:
PVP, P vs Ai are both available. The PVP(Player vs Player) system and the Seige-Warfare(Players vs Players) system will be added soon.
Mickvir:
When will the game be launched and what elements of the game will be available on launch ?
ROR:
The official opening date is October 7.(more details are on Discord)
Many functions will be available such as combat, collection, mining, and an auction for trade.
For more details, we are constantly updating the on @roadofrich, @ror.pay, please refer to them.
Mickvir:
How will the in game currency/currencies work and will it/one or both, be tradable on Steem Engine?
ROR:
There are two kinds of currency in total. One is "Gold," the in-game currency, and the other is "DIA(Diamond)," the payment currency.
Basically, "Gold" is a basic currency that is used in-game. Unique point is that donating "Gold" to the ROR altar allows some of the paid payments to be compensated with STEEM or RORS token through compensation pool.
'DIA' can be purchased through STEEM or RORS, and various paid items can be purchased with "DIA" to help make the game more convenient.
Mickvir:
Is there anything else you would like to let everyone know about?
ROR:
ROR is a game that was produced using the Token-Economy system to the fullest extent.
100% of the game's revenue is equivalent to compensation. Of this revenue, 60% will be paid to RORSToken holders and 40% to game players. (please refer to @ror.pay)
@ror.pay account, which is a compensation pool account, currently has more than 2,500 STEEM, and it is expected that more compensation will be accumulated after the game is opened.
While Korea is the only country to choose from in the Alpha version, we will add more countries in the future. Therefore, we hope that various national communities will participate in the ROR game and play it. We are currently serving English and Korean and will provide more language services in the future.



After speaking with ROR I am filled with excitement over this awesome game about to be launched right here on the Steem blockchain.
So if your into gaming, make sure you show some support for ROR.
Will you be one of the top players in ROR?
Grab your sword , grab your axe or your merchant's cap?
We are about to be plunged into a brave new world ?
Are you ready for the challenge?
Thank you so much to Nia and Ahyun from ROR for taking the time to speak with me. And also to the team of ROR for bringing us this awesome game.



ROR Official Discord channel: https://discord.gg/vyPHGk6
ROR Official Homepage: http://roadofrich.com/
ROR Official Kakao talk channel: https://open.kakao.com/o/


Also make sure to checkout BattleGames.io for more awesome gaming content!