Still Buying in to Splinterlands!
After buying 100 Beta packs with both the Billiant Lengendary and Alchemy, I wanted to do some ORB's the same way and take a look at what I could hit. I didn't have enough STEEM to swing for 100 ORB's, so I did a few rounds of the 20+1 to pick up that bonus Orb. I only put down my highlights, since no one wants to look over 100 pictures!!!
I will limited the highlights to Epics or above and any Gold, cause I love Gold
First 20 +1 ORBS Highlights
Gold Foil
Epics
Mermaid Healer x 4
Dwarven Wizard x2
Best Pack - Double Mermaid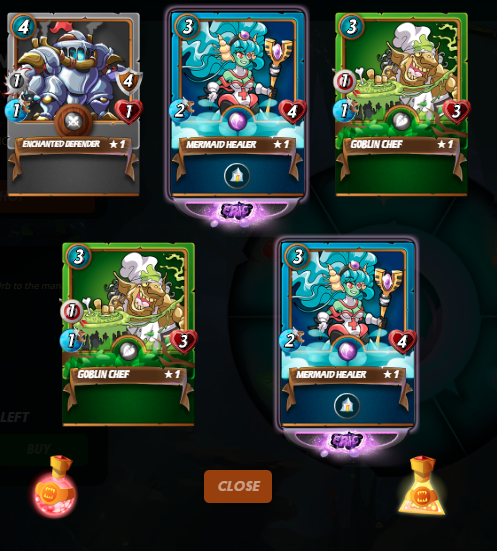 Pretty good start, a little light on gold, but that 4 Mermaids and 2 Dwarven is a great start.


Second 20 ORBS + 1 Bonus
Gold Foil
Undead Archer
Armour Smith
Eletric Eels
Enchanted Defender
Epics
Mermaid Healer
Dwarven Wizard x 2
Legendary
Minotaur Warlord
Corrupted Pegasus
Lord of Fire x2


Well well, It looks like I broke through and nailed my first Legendary from Orbs, Getting 4 is a huge boost and will get me close to the level 3 legendary I need to make that push to Diamond 1+. A few more of the high dollar epics and lets not ignore all the Gold... 4 Gold foil, and I think I only had the Enchanted Defender in Gold before.
Overall, I got to say so far I am loving the ORB's
First Pack - First Legendary Got to love a start like that!!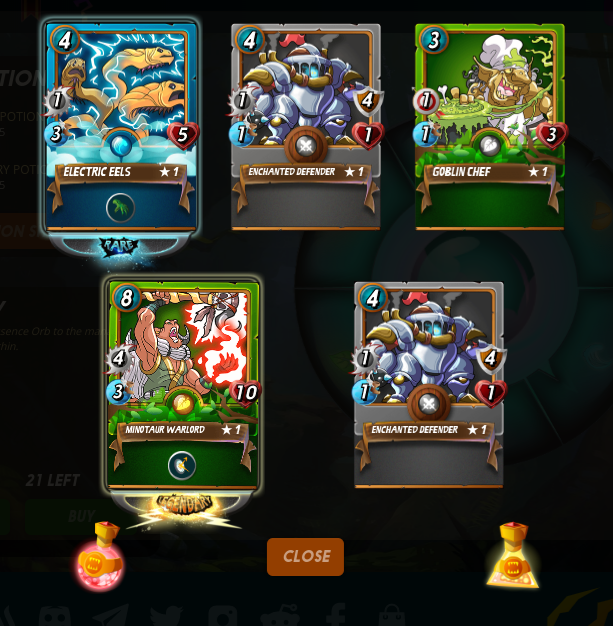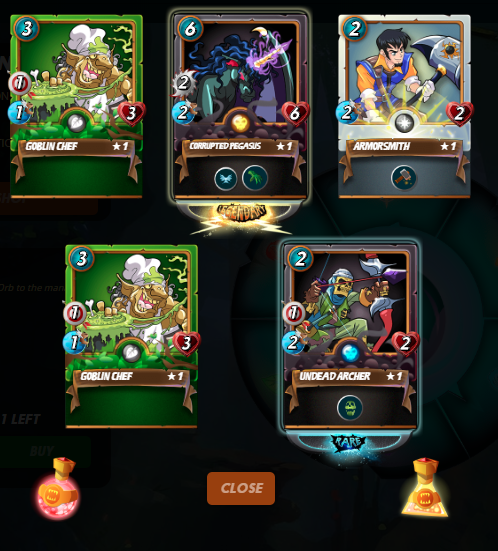 Double Pack Legendary!!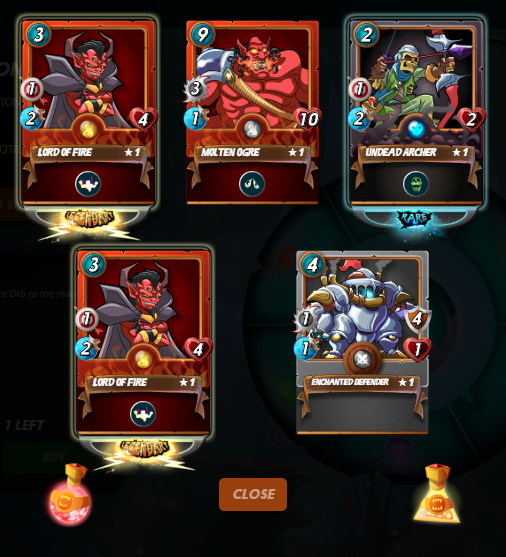 Third Round of 20+1
Gold Foils
Molten Ogre x2
Silvershield Bard
Armour Smith
Undead Archer
Eletric Eels
Goblin Chef
Epics
Legendary
Minotaur Warlard x2
Corrupted Pegasus x2
Lord of FIre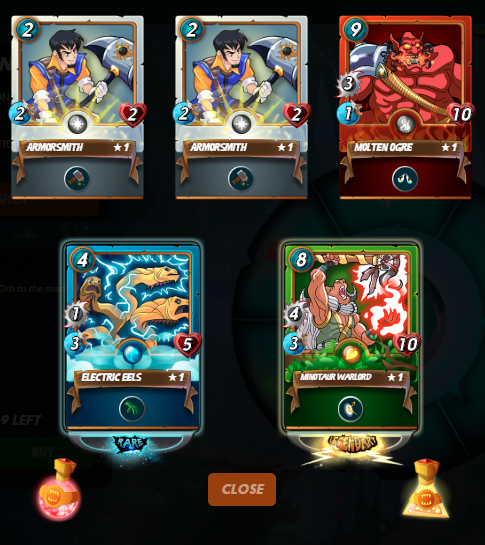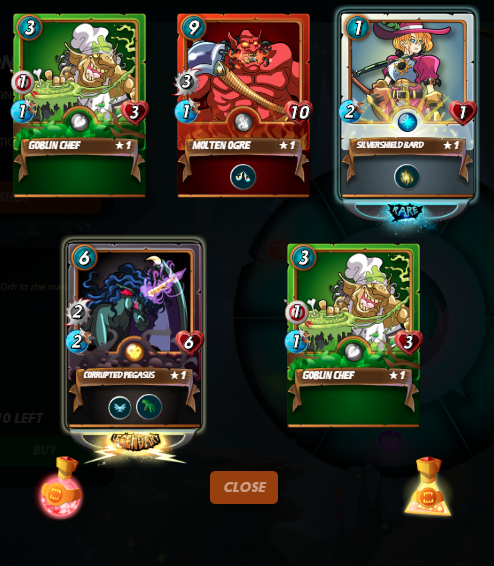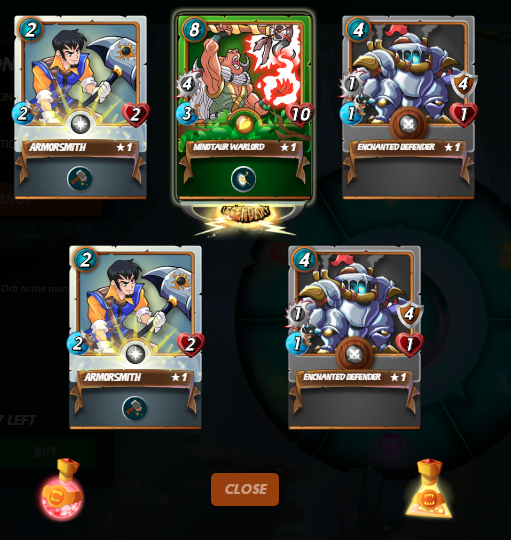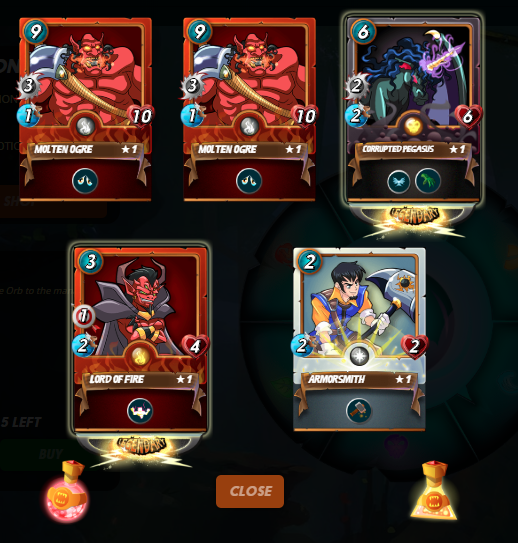 OH Man I wish I had more ORBS!!!
6 Gold Foil??? Another Dwarven!!!! and 5... Yes that's right 5 Legendary!!!
This moves me to having an even 3 bcx for each Legendary. Too bad now I need switch to Beta
I Ran out of DEC and STEEM - So 37 Beta Packs for the rest!
Got to maximize the potions, don't want to use them on reward cards.
*####Highlights
Gold Sabre Shark
Gold Feral Spirit
Gold Pirate Captain
Gold Silvershield Warrior
Gold Animated Corpse x2
Gold Grumpy Dwarf
Gold Twisted Jester
Gold Silvershield Paladin
Gold Crustacean King
Gold Eleven Cutthroat
Gold Lyanna Natura
Gold Xia Seachan


Lighting Dragon
Gold Dragon
Elemental Phoenix
I crushed the Gold and Legendary.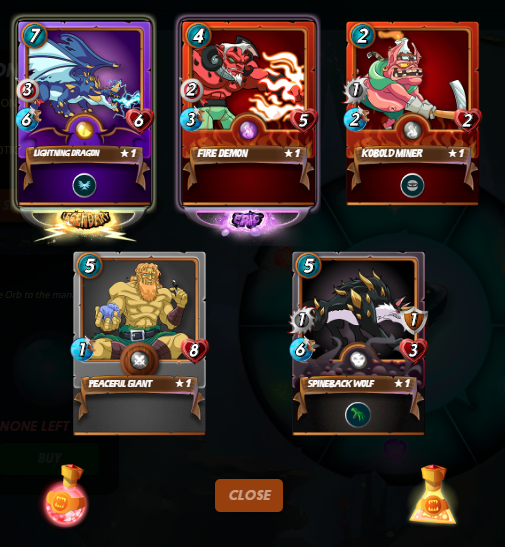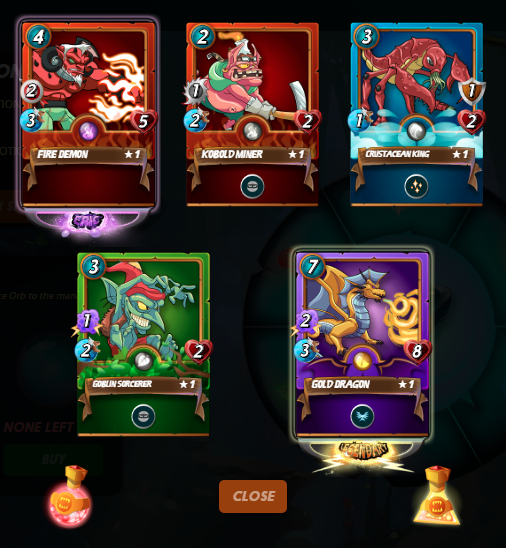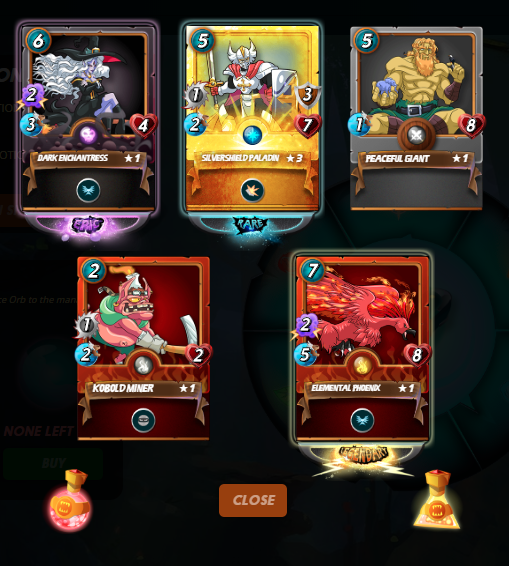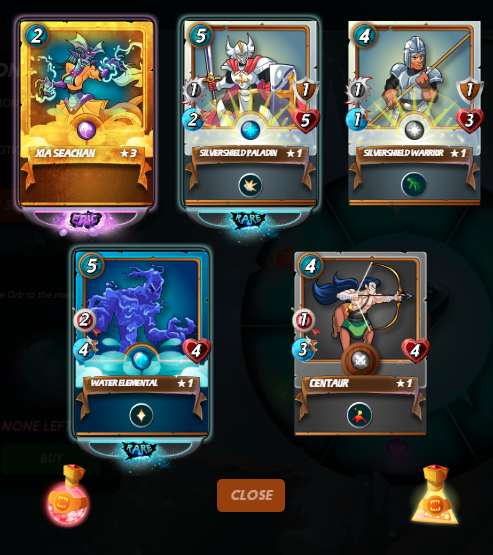 I mean, come on, 13 more Golds, 25 Gold Foil out of 500 cards.
I will have to remind myself of this when I strike out on the next round. I only need two more Bcx for the legendary, and I got a ton of Gold for my low level Gold account I am making. I think this was a great investment, and intend to do more. I would love to look at my ROI, but man, going back and tracking all 500 cards, is a bit overwhelming. Anyone know of any good scripts you can use to pull you pack opening history?
Game on!! ~Senstless~