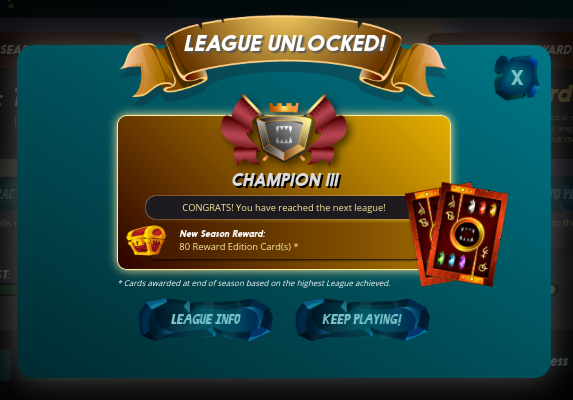 Title Says it all!
I made my push today - well not exactly, I was extremely lucky in my match ups, had some good wins, my poison and retaliate was running like 90% on Serpent of the flame. I also won a few matches against teams in the 4500's. No idea how, but those were some BIG boosts. I hit Champion 3 on my last match I needed for my daily.
I am pretty proud of that with my almost complete Gold Deck, they are all level 6 summoners, and it is almost a complete max deck to the summoners. I have a few missing legedary summoners, and a few random cards I am missing ( Magi Sphinx, Mis Mermaid, Epic Promo Cards!!)
Lets take a look at my first and last Champion Daily Rewards.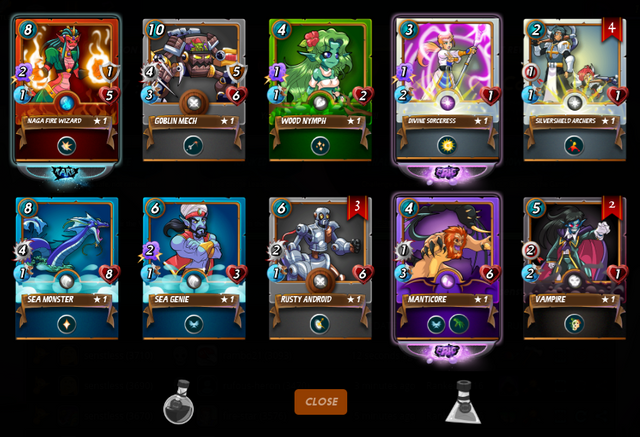 Double Epic Pull - Decent day.
We all love our Gold Foil and Legendary, but I will gladly take a couple of Epics. I do seem to get a TON of Divine Sorceress, and could really use more Manticore and Daria, but these will stack just find. Still trying to find that good use for Divine, I am stuck at level 5 and almost never use it.
I am really hoping to have some good luck tomorrow night with the new reward cards. I need a ton of Beetle Queen, Naga Windmaster and of course, everyone favorite, FURIOUS CHICKEN!!!!! Inside scope on why its named the Furious Chicken, because you are furious you forgot it... again... and it could have helped absorb a big hit for you, but no you totally forgot it!
Champion 3 - I think I will just camp it out.
I am sitting here with 85% DEC capture rate, and I think I am just going to wait the 16 odd hours for the season to end. I will claim my 80 reward cards and see what I can upgrade before starting my daily. I think the season rewards are based on the highest score you hit during the season, but the season reset is based off where you end up? I might be wrong, but last season was brutal for me in the first 5 days. I could not get out of Gold 1... so many 12-5 sessions where I could gain or lose about 10 net points. As soon as I managed to hit Diamond, I flew through Diamond 3 and halfway into Diamond 2. It took the rest of the season to finally get to Champion but I also was not going to push until today. I wanted to get there, but not too early. I am hoping that if I start in Diamond I will be able to stay there and have a better start to the season.
Legendary Summoners
I only have the Crypt Mace and Peakrider at level 3... I have 2 Rennyn, but the upgrade cost is a bit too high for me right now. Since I have never played with Valnamor or Plado at high levels, I am wondering if you think they are worth the upgrades. When I play fire I typically actually don't use at lot Melee, I tend to use range, double snipe, fire demon, phoenix, but could see how it would be useful in some game types. I don't play against Valnamor very often, and don't know if it is a good card or not. Please let me know your thoughts, I am considering some upgrades, but also hard to upgrade when I know there are 60 new cards just a few months away.... don't want to spend all my capital too soon.
Kick Starter
I am going to take part of my 2nd Kickstarter. I have already made my pledge at the $200 level, although I am really conflicted on what I should do. I like the idea of the physical cards, but most likely would never use them. I also love the idea of over pledging to get more packs for airdrops and to get more of the new mystery tank they are going to give away. It is a tough choice for me on the physical merch vs packs. I have a feeling I may change my pledge after a week and see how it all shakes down. Either way, I am both excited and not excited for Untamed. I can't wait to see the new cards, but I am not looking forward to getting my primary decks to speed along with my herons accounts. No way can I upgrade them all, or even know what to focus on first. Either way, I think this is going to be a great development for the game long term and will create even more value for rental space.
Enough Rambling, I need sleep.
Game on!! ~Senstless~