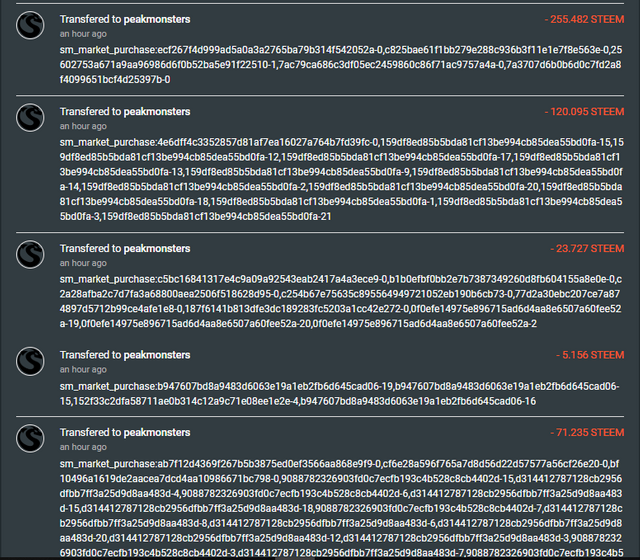 Don't judge me, I am doing a fine job of that already!! I went in thinking I was just going to be upgrading my epics to level 5, then I realized I did not have all commons to match... so I went Banana's and am upgrading everything.
I went off script a bit. I still have a level 4 Defender of Truth, but think that is better than level 5. The plus 1 magic just kills it quicker off the reflect so I am ok.
I also still have a Fire Demon that is at level 5, but I could not justify the cost to upgrade for +1 Health.
I bought a Red Dragon level 3 on a whim... not sure if that was smart or not.
I have a few commons that I almost never use. See Giant Roc, Sabre Shark and Minotaur Warrior at 7 ( Well baby shark is at 6) But I almost never use them so I allocated the STEEM else where.
Orbs cards still need a few upgrades, but they are fine. I will get to them over time. Orbs are still here for a while I think.
My Biggest holes left are Magi Sphinx... at level 3. I is crazy money for an epic, 23 bcx at $2 a piece...
Fiendish Harpy - I don't have any yet, and it seems to be very, very useful. and the legendary summoner. I only have death to level 3. The rest need work.
Sorry for the quick post but between super busy work, and a mad buying frenzy as the STEEM price plummets towards nothing, I don't have time for a real proper post tonight. Now I am on to stacking to STEEM and saving for the new cards. I will take my time with the new cards. Not all of them will be useful, I hope to still use many of my beta and only really focus on the ones that game changers to how I play.
Go take a look at my team and tell me what I missed.
https://monsters.steempeak.com/@senstless/collection, I hope to be hitting Diamond 1 easier this this season. I have heard of someone hitting Champ with a level like mine, but I have no idea how!
STEEM on and on as we ride this price all the way down!!!
All a Board!!
Game on!! ~Senstless~