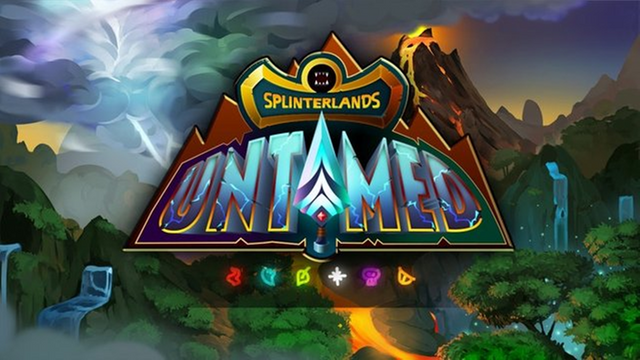 I just have Life, Dragon, and Neutral to go and then I will make a post will all my reviews of the Untamed cards. I am glad that some people seem to like them and the @splinterlands team has been supporting me. Life is a good team for sure as they are armor team. I have felt armor has been very powerful in the game. I am glad that there is now a neutral card that has protection along with the rust skill to balance that out a bit. I am going to still do giveaways on the review posts. I would like to know what you think of the review or any of the cards that I review. Let me know if I got it right or wrong. I will pick one random person that does this to win 500 DEC.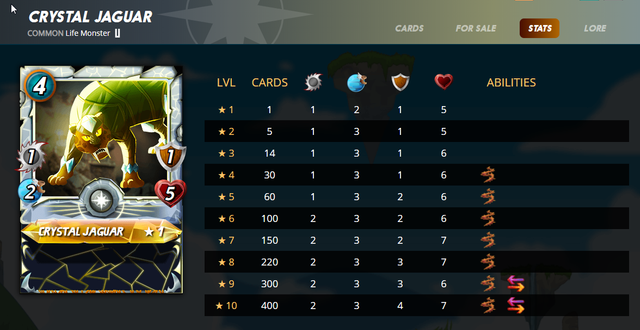 Crystal Jaguar seems to be the undervalued card of the team. I always do common card bids for 2 cents and I get this guy a lot. That is okay with me. While this card isn't great it is solid. He has an okay attack for a monster with thorns. He has good armor in the higher levels. Also has the retaliate skill. His speed is middle of the road that makes him usable in reverse speed. He will be a great add-in melee only or super sneak. In a turn, he can do 6 damage when he gets a retaliate and 4 when not. More if he gets hit a few times. On a team that can buff armor and heals any monster with thorns can be used. He will also make the cut in little league. So keep selling him to me for 2 cents. While he will never be high value he will be useful.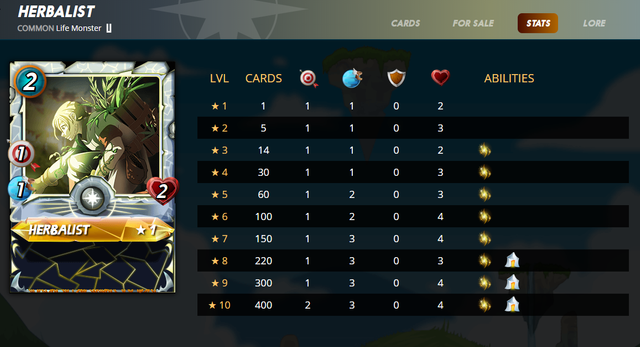 Herbalist gives the Life team a triage card. Her low mana cost makes this card easy to fit in. Cleanse isn't my favorite skill as I don't see it make a big difference often. I do like that this is a ranged card. So it is a lot more useful than Silvershield Bard imo. I do expect this card to be a popular one for people who are willing to get it to level 8. It really isn't that useful until then. That will keeps its value low for now. Healing your back row can change a game a lot. So don't overlook this card. Having only 1 attack until level 10 is a bummer. A tank with shield won't take any damage. Yet in Target Practice games she will be a great card to have. It also will counter normal snipers well.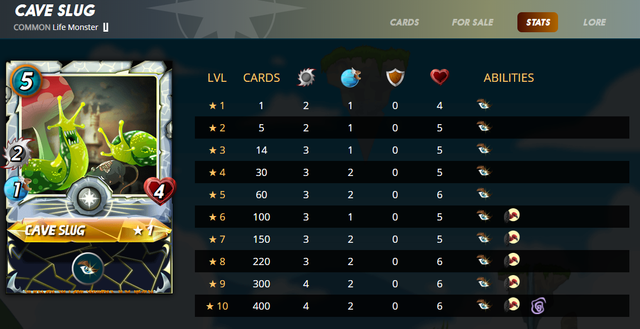 Cave Slug is super cool. The card is a star in reverse speed and normal. Either he takes out a weak guy fast or he cleans up the most damaged guy on their team. Scavenger on a monster that hunts the weak is a nice second skill. If you happen to be able to play him at max level the slow is great to make him even better in normal games. Being able to double or triple slow the other team can be a really good move. He has a higher cost so he is meant to be played in higher mana games. He stats are good for that also. 3 or 4 attack with good hp means he should be able to attack at least twice if not more. I really wish I had this guy at level 6 to try and combo and will be buying more to do that soon.

Lone Boatman is also a cool card. Repair is a great skill for the team. He is also a common sniper that is something the team needed. His higher cost so fits into higher mana matches. 3 attack on a sniper is good and so you will want him at least level 8. You can play him with 2 attack in lower leagues but you want that third damange. Shatter is okay but not needed so once you get him to 8 he is solid to use. He gets a little better if you push him up but not needed right away. It will be nice to be able to put a card with repair on the board in the back that can attack right away. Or to put two repair cards on the board and see if your armor can hold up. I see this as a card that will show up in the battle a lot.

Well, this is just the common set from Untamed and I have to say the team got good cards. All are useable and the slug is really strong. I like a lot of what the life team got in this set and will be back soon to go over the rares. Thanks for checking out my post.
I am a member of the CCC group also. I am always trying to support others here with my giveaways. This is a Contest Kings giveaway No Upvote, No Follow, and No Resteem are needed to join
This is an Invitation to join #ccc for Guaranteed 👍 Daily Income 💵 and Payout 💸 for Newbies (2.0) 🐟 🐜 🐛 in #ccc 👣 and Follow 👣 the Honor Code 🏅 - the Creed (Conditions and Limits Inside) AND the latest update <<< please click to read.
I am now going to recap a past giveaway so you don't need to look one unless you want to see who won the giveaway from this post.
Winner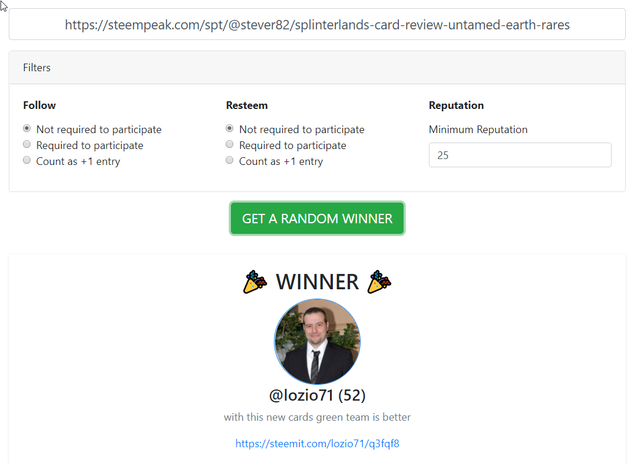 Congrats to @lozio71 you won some DEC. Glad you think Green is Better now.