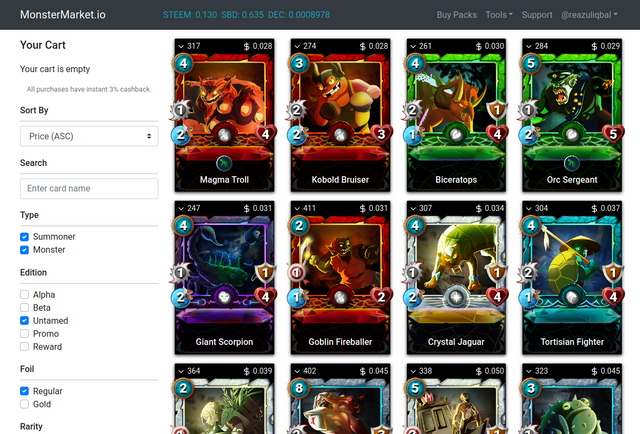 Around two months ago we have launched the web version of our Discord Splinterlands market bot. It was a Minimum Viable Product (MVP) at that time. Over the last two months, it has received many updates. Splinterlands did an awesome release of Untamed edition cards. So, the website needed to be updated with new tools and tweaks.
Rebranding
Yes, we have rebranded MonstersMarket (https://sm.steemify.me) to MonsterMarket.io (https://www.monstermarket.io). We did this based on users feedback, they loved this name. We wanted to get the dot COM domain, but neither dot COM nor NET was available. So, the dot IO seemed to be the best option and we did it.
Updates
Automated cashback
We were doing cashbacks when we started but was only limited to STEEM and SBD purchase. Later Splinterlands started accepted DEC as payment. But DEC has a significant difference, unlike STEEM/SBD, DEC purchases are handled by Splinterlands itself. DEC purchases using our market are also hard to track as we are not handling it. So, we were doing manual cashbacks for DEC, which was time consuming and users felt inconvenient DMing me on Discord for cashbacks.
The good news is we were able to make DEC purchase cashbacks automated too. Our users were receiving automated cashbacks since last week.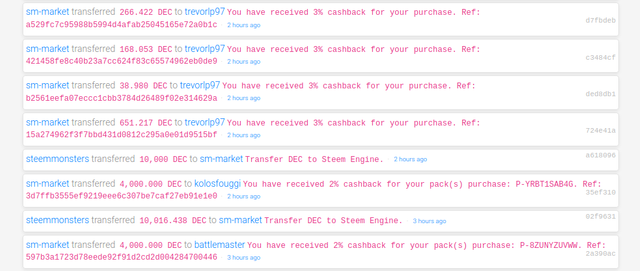 Screenshot taken from steem-engine.rocks
DEC cashbacks are same as STEEM and SBD. 3% for cards purchase, and 2% for packs purchase.
Individual Card Page
Have you ever wanted to share your cards with someone else? May be for showing them or have them buy the card, or may be in a giveaway. Your best option was to tell them the UID of the card or a screenshot. But from today you can give them a direct link to any of your card.
Format: https://monstermarket.io/card/[YOUR_CARD_UID]
Example: https://monstermarket.io/card/G3-82-P9FRPIMH80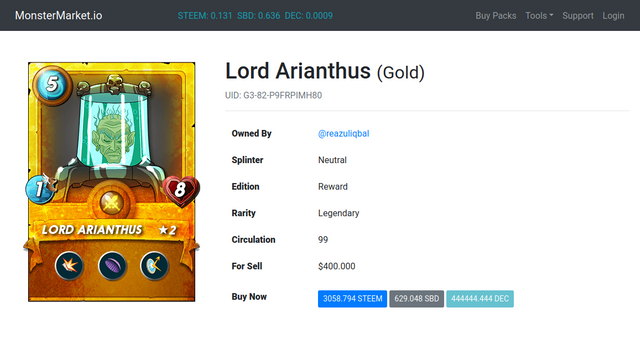 If the card is for sell, they visitors will get buy buttons. If its delegated they will see who it is delegated too or the card was burned or combined visitors will see that.
So, have fun sharing your cards with friends and family. :)
Added Stats Tab
With the release on Untamed edition cards and new reward cards we have seen a lot of new abilities and new cards design. The cards design and abilities are awesome. So, we have added a STATS tab on every cards on the market with abilities in different levels and what the abilities are. Also added stats and abilities on card images.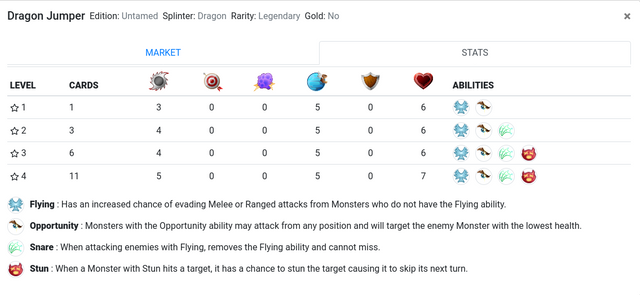 Showing abilities of the new Dragon Jumper legendary card
Tools Update
We have two tools in the website- Splinterlands Deck Cost Estimator and Packs Opening Analyzer. Both tools have received significant updates and support the Untamed edition and new reward cards.
Cost Estimator new has filters to exclude legendary summoners and 2 mana summoners. We are working on adding more filters.
Packs Opening Analyzer now shows burn value of all opened cards and a nice sort-able table. You can use the table in your Steem posts too (I'll post a tutorial soon). We are also working on exporting the data too.
Faster Website
We have spent some time improving the speed of the website. As we are constantly updating the website it has become a regular task for us. We love it when our users feel the website loads faster.
Why use MonsterMarket.io?
We are sharing 60% and 40% of our revenue from the cards and packs purchases with the users respectively. All cashbacks are instant. You don't have to wait or purchase a set amount to get better cashbacks.
If you have any suggestion or there is a problem please reach out to us in Discord.
All card images and icons shown are property of Splinterlands